WELCOME to SECRET CAVERNS!
The Speleological Center of the Universe!
OPEN (WEATHER DEPENDANT)
THINGS THAT YOU MAY WANT TO KNOW BEFORE YOU VISIT
OPEN 11 to 3 FRIDAY-TUESDAY
CLOSED WEDNESDAY and THURSDAY
$20 Adults, $10 Kids (6-12), 5 and under FREE
CA$H ONLY, No ATM on site, please plan accordingly
Tours start at the top of the hour, every hour (while open)
NO RESERVATIONS REQUIRED for general tours
All bags are beautiful and welcome
STURDY FOOTWEAR is ADVISED
There are 103 stairs that are used to enter and exit Secret Caverns
Walkways are scientifically illuminated by hundreds of electric lightbulbs
Strollers not permitted
50 degree year round temperature, jackets recommended

The mummified remains of the first tour guide (pictured above) and many other interesting things are on display at the Secret Caverns lodge and may be viewed before or after (not during) the guided tour
Read what others are saying
"Pleasantly non-dogmatic." -New York Times
"Secret Caverns Rocks!" -Kevin Smith
"Awesome, unspoiled, and beautiful...an unforgettable outing not to be missed...sure to delight the youngsters." -Excerpt from Kaatskill Life
"It retains much of its wild character while still being quite accessible...a good place to bring a class" -Dr. William M. Kelly, NYS Geological Survey and Curator of Geology, NYS Museum
"Wonderfully funny and informative guide, and his lack of body odor was greatly appreciated." -Andrew Hildreth, NY
"This place rules, We drove from California just to see this." -Tyson Mrosek, Pro Mtn Bike Downhill Racer.
But don't take their word for it, see for yourself why Secret Caverns is off the beaten path in more ways than one.
For more Information, give us a call at (518) 296-8558 or email us at secretcavernsrocks@gmail.com
The Batsquatch of Secret Caverns is real but we are not supposed to talk about it, so don't ask.
General Information
Nestled in the hallowed halls of hollow earth, Secret Caverns is a small commercial cavern located in upstate New York. Founded by local civil engineer Roger Mallery, the caverns have hosted Americas roadside travellers and seekers of subterranean knowledge and the batsquatch since its discovery by intrepid bovine explorers in 1928.
Tour
Visitors to the cave can expect a 45 minute to 1 hour guided walk through an unsullied but accessible prehistoric passageway encrusted by the patient hand of time. Mother Natures handiwork can be easily viewed in the form of stalactites, stalagmites, and flowstone. Because visitors enter the cavern by use of the petrified escalator (the 103 stairs), the various layers of limestone deposited faithfully by the prehistoric ocean, which covered North America during the Silurian-DEVOnian eras, one can easily view Americas "first" settlers in the form of brachiopods, corals, and crinoids.
The tour culminates when one reaches the world famous 100 ft underground waterfall. Truly a wonder of nature, this rare sight is unmatched among showcaves.
The caverns maintain a year round temperature of 50 degrees F (~10 degrees C). As a result, we recommend a light jacket or sweater and comfortable walking shoes. Cameras, pictures, and touching of the formations and ghosts is allowed, as is not the case with most other showcaves in the US.
"Rock Bottom" Group Rates!
Secret Caverns offers fantastic group rates to all! Take advantage of them before we come to our senses! Call the caverns lodge for quotes!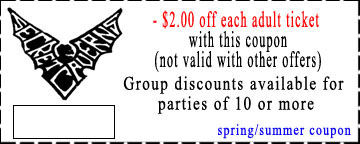 Click the coupon above, print it out and bring it with you on your next visit to receive $2 off each adult ticket, or since it is 2023 just show us the coupon on your phone screen and save yourself the hassle of finding a way to print it on the road, either way works for us.